Pay-Less Markets Partners with MCCA Efforts to support those affected by Typhoon Mawar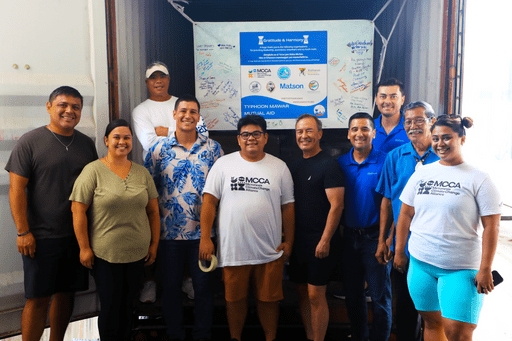 July 14, 2023- Hagatna, GU - Pay-Less Markets, Inc. through its affiliate entities, PDC Wholesale and Pay-Less Logistics, partnered with Micronesia Climate Change Alliance and Matson Shipping Lines, to provide much needed support to island residents, following Typhoon Mawar. Our island was hit by the category 4 Typhoon on May 24, 2023 and recovery efforts continue.
As a result the Micronesia Climate Change Alliance has coordinated two shipping containers, through Matson Lines, with relief supplies to assist in the ongoing recovery. CHamoru organizations based in the continental United States came together to fill the containers with critical relief supplies within six weeks of Typhoon Mawar hitting Guam and Luta. 50,000 pounds of supplies were donated by numerous organizations who assisted with supply drives include Inafamaolek.us, Sons and Daughters of Guam Club, Guamanian Community Club of Sacramento, House of Chamorros, Pacific Island Ethnic Art Museum, Kutturan Chamoru Foundation, Håle' Para Agupa', Gi Matan Guma, and Gallup Solar.
Pay-Less Logistics, Inc. coordinated the loading of the container in Northern California along with numerous non- profit organizations and volunteers in the San Francisco Bay area. Matson shipped the containers from the US mainland to help the people of Guam and Rota in their time of need with in kind freight totaling $350,000.
As the containers arrived on Guam, they were transferred to the PDC Wholesale warehouse, off loaded and organized for distribution on July 8, 2023. PDC Wholesale provided their facility and logistical expertise to include loading docks, forklifts, dollies, and moving trucks to provide support to move the relief supplies. In addition, Pay- Less Markets consolidated some of the donations in their company containers being shipped to Guam.
The supplies will be distributed amongst seven mayors offices and ten organizations, including Mangilao Mayor's Office, Serve Guam Commission & AmeriCorps Programs, Chalan Pago-Ordot Mayor's Office, Inalåhan Mayor's Office, Hagat-Santa Rita SDA church, Barrigada Mayor's Office, YONA MAYOR'S OFFICE, Be Heartfelt, Yigo Mayor's Office, Guma Mami, Inc., Touchpoint Church of God, Para Todus Hit, and Sagan Kotturan Chamoru.
In Addition to this effort, PMC Investments, Inc., the parent company of Payless Markets, donated $20,000 to the American Red Cross for typhoon Mawar relief efforts.
About PDC
PDC Wholesale was established in 2016 as a wholesale company that distributes a wide variety of high quality products to local businesses. Their portfolio covers sourcing from all over the world, with a range of items from the US, Asia, and locally. They specialize in Produce, Meat, Dairy, Grocery, and Pet Food items. Our 50,000 square foot facility; which houses a USDA Further Processing plant for any customized butchering needs, a state of the art Produce Packaging Facility, three Pressurized Banana Ripening rooms, and a large footprint of chilled, frozen, and non-refrigerated space is well equipped for all customers in the food service or retail sector.
About Pay-Less Logistics
Pay-Less logistics is located in San Francisco, CA. and is owned and operated by the Paul M. Calvo family. They specialize in the export of fresh produce, dairy, beverages and multiple lines of grocery products.
About Micronesia Climate Change Alliance
Micronesia Climate Change Alliance (MCCA) is a grassroots network of individuals and organizations dedicated to creating community-centered solutions to climate change. Although we are a small team, we have an ambitious agenda to improve the sustainability of our island home by focusing on a wide spectrum of issues such as transitioning to locally-produced renewable energy sources, promoting food sovereignty, tackling the consumption and waste crisis and advocating for an equitable, just society throughout Micronesia.