Pay-Less Markets Hosts Måolek Fest Block Party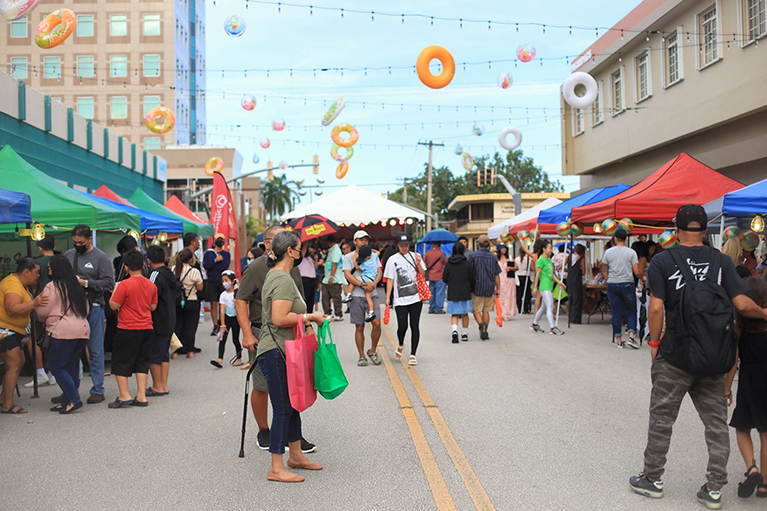 Wednesday, August 23, 2023 - Hagåtña, Guam - Payless Markets will host its 2023 Måolek Fest on Saturday, August 26th from 6pm-10pm. The free event will take place in Hagåtña between the Pay-less Markets and Calvo's Insurance Corporate Offices. Throughout the night, there will be 18 food trucks, over 60 vendors, and live performances from Both of Us Four and The John Dank Show. In addition, there will be multiple promotional giveaways, tons of raffles and a beer garden hosted by Island Beverage Distributors!
As an added value to their Måolek Rewards members, from August 11th - 24th, Pay-Less will be offering $5 Måolek Fest vouchers in exchange for 250 Maolek Rewards points at any of their Pay-Less locations. Customers can utilize these coupons at any food truck and vendor participating in the Måolek Fest event.
"We invite the community to join us for this family-friendly event! This is just another way that Pay-Less cares for our community by promoting our local businesses and bringing everyone together," says Pay-Less President, Kathy Calvo.
Pay-Less would also like to remind the community and businesses in the event vicinity of the road closure of Chalan Santo Papa and Martyr Street on August 26th from 10 am - August 27th 2 am.
The 2023 Måolek Fest is proudly sponsored by UNFI, D&Q and Matson. Pay-Less would like to extend a special thanks to their vendor and food truck participants which include ASAP Bakery AundryaMCreations, Beach Daze Creations, Brown Heritage Boutique, Cali Cakery, Carter James, Casta-Spell, Cessa, Chill Slushie Bar, Creative Energy, Daydream Cartel, Dripserveddaily, Get Glammed Guam , Goats & Giggles, Green Rock Crafts, Guam Peeps, Pay-Less Health Smart, Hibiscus Guam, High Vibrations, House of Xellence, Hunny Threads, K+N Collection, LCD Lights & Toys, Lotus Surf Shop, Lovebylibby, Mantanoña's Lañan Niyoc, MKSP Scentcerely Yours, Mona's Crystals, Moving Colors, MidPac, Personalized Gifts by Albert, RaiRoseRue Collection, Salty Swells, Scentsy with Lieana, Self Secured, Sentiments by Simone, Serendipity Treats, Seshion Apparel, Sirena Soul Guam, Smile Child, Southern Glass, SPJ Crafts, Synergy Studios, Tasi Treasures, Tekanohi Polynesia Artisana, Umi and Meg Creations, Unggoy enterprises, Velani Jewelry, Riley's Art Studio, Island Rae Designs, Cards by Chi (CBC), Guihan Art, Sleepy Sprouts, Mini Inc., Golicious Treats & Crafts, Maija's Mini Boutique, CalBros, Dirty Kitchen, Pure Lemon, Lyn's BBQ Stix 2, Sip N Dip Sticky Fingers, A&L Foods, Island Kraves, Bubble and Brewed/Mama Bug's, Manang Pika, The Sweet Spot, 671 Kettle Korn, Juju's Galley, .50 Cal-zone, La Aurora del Sabor, The Food Truck, Daddy's Goods, Pono Hawaiian Grill, and Hafa Adai Life.
About Pay-Less Supermarkets
Pay-Less Supermarkets, Inc. was established in 1950 as a member of Guam's business community. From just one modest store, it has grown to eight stores with locations in Dededo, Maite, Mangilao, Micro-Mall, Oka, Sinajana, Sumay and Yigo. Pay-Less is proud to serve the community by providing the "Greatest customer value every single day". For more information, please visit www.paylessmarkets.com.