Pay-Less Markets Community Foundation Announces Summer Kick Off to the 9th Annual "Small Change, Big Difference" Charity Campaign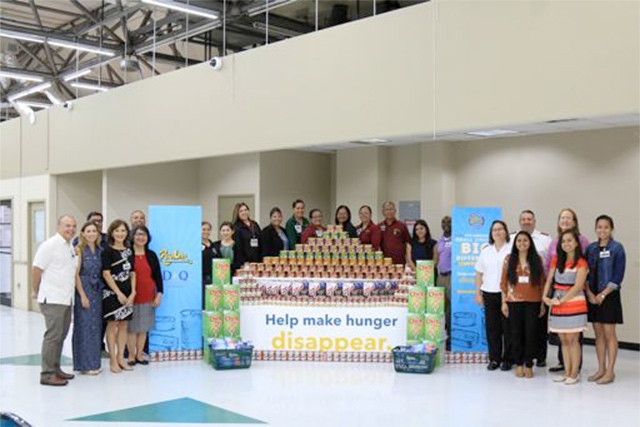 May 30, 2017- Hagatña, GU - The Pay-Less Markets Community Foundation is proud to announce the kick off of the 9th Annual "Small Change, Big Difference" charity campaign which kicked off on May 28, World Hunger Day. The campaign was created to raise awareness of the problem of hunger on Guam and help reduce it with the support of our local community.
"The change comes in an effort to help fill a critical gap in assisting local non-profit organizations who champion the mission to serve our less fortunate individuals and families. These non-profit organizations have mentioned the decrease of stock in their food pantries and increase of individuals and families in need (during the summer months). With this information we decided to move the campaign that originally launched during the holiday season. We hope that this change will fill this gap, and we encourage our community members to join us in making a difference this summer," says Kamerin Pereira, Pay-Less Community Relations Coordinator.
The community will have the opportunity to make monetary donations upon checkout, in the form of $1, $5, or $10, at any Pay-Less store location. All donations collected from May 28 – July 31, 2017, will be distributed amongst local non-profit organizations that advocate for this cause including Catholic Social Services, Kamalen Karidat, and the Salvation Army.
In addition, Pay-Less and Dickerson & Quinn have partnered to donate over 3,000 food items to the organizations to help fill their food pantries just in time for summer.
"I want to thank the our local community and partners for your continued support over the years. Together, we have raised over $86,000 in monetary and food product donations in efforts to reduce hunger on our island, " says Kathy Sgro, Pay-Less Executive Vice President.
About Pay-Less Community Foundation
Officially incorporated in 2006, the Pay-Less Community Foundation's mission is to "improve the quality of life of the people of Guam". The foundation was established to provide technical assistance and support to organizations that address the many needs of our communities.