Pay-Less Community Foundation Donates $30K for CNMI Typhoon Yutu Relief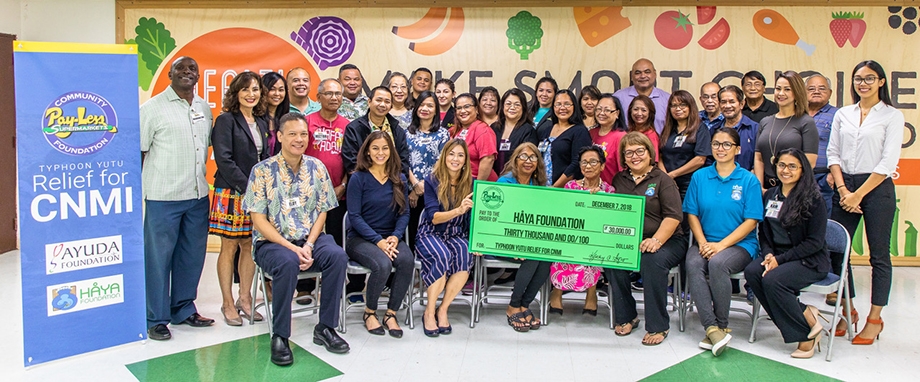 Hagåtña, Guam (December 7, 2018) – Pay-Less Markets Community Foundation (PMCF) presented a check of $30,000 to Håya Foundation, a non-profit organization that has been and continues to assist victims of Typhoon Yutu in the CNMI.
Pay-Less Supermarkets hosted a "Typhoon Yutu Relief for CNMI" drive at all store locations from October 25 through November 28, 2018. The community donated roughly $18,000 through $1, $5, and $10 donations upon checkout and coin box donations at each register. PMCF matched the community's monetary donations up to $12,000 to total $30,000 for Yutu relief efforts.
Pay-Less also provided the island community the opportunity to donate food products, toiletries, and clothing at each store location and partnered with the Ayuda Foundation and Boy Scouts to ship to the CNMI. Battery packs and cases of water were among other supplies Pay- Less donated.
"There is nothing more gratifying in life than reaching out to assist the less fortunate. Pay-Less Markets, Inc., along with our Pay-Less customers and the Pay-Less Markets Community Foundation joined forces today to donate $30,000 to the victims of Typhoon Yutu residing in Saipan and Tinian. This collaborative effort is in line with one of the tenets of our Pay-Less mission statement, 'care for our community'. Dångkolo na si Yu'os ma'åse to our generous Pay- Less customers for your contribution. We send our continued prayers and good tidings to our neighboring brothers and sisters as you now rebuild and heal," says Kathy Sgro, Pay-Less Executive Vice President.