Pay-Less Community Foundation awards beneficiaries from proceeds of 2022 Kinahulo' KTF 5k/10k Virtual Run/Walk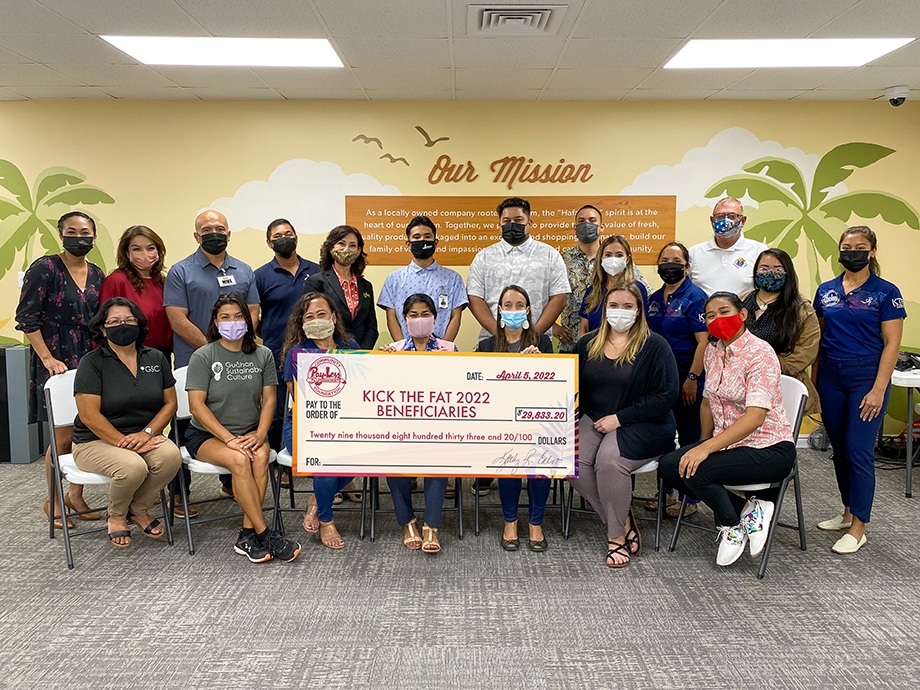 Friday, April 12, 2022- Hagåtña Guam - Pay-Less Markets completed another successful Kick the Fat (KTF) 5K/10K Virtual Race! Similar to last year's race, the virtual format allowed 879 runners to run or walk from any location.
"For a quarter of a century, the annual Pay-Less KTF 5k/10k has provided financial assistance to various nonprofit organizations on Guam. Kinahulo' KTF22 raised $29,833.20 which will help "lift up" our island community most especially during these challenging times. Si Yu'os Ma'ase to all KTF race participants, sponsors, organizers, and supporters!" – Kathy Calvo, Pay-Less Supermarkets CEO & President.
This year, the race served as a reflection of Pay-Less Community Foundation's passion for strengthening Guam's community through donating a total of $29,833.20 to the following non- profit organizations: Guam Memorial Hospital Volunteers Association, Harvest House Inc., Knights of Columbus – Our Lady of Mount Carmel, Manelu, Oceanic Ascent Education, Inc., Okkodo Parent-Teacher- Student Association, and Sanctuary Incorporated of Guam.
The success of our donations would also not be possible without our sponsors. Special thanks to: Bank of Guam, California Pacific, Calvo Enterprises, Inc., Calvo's Insurance, Dickerson & Quinn, Matson, Micronesian Brokers Inc., Pepsi Guam Bottling, UNFI, Cosmos Distributing, APL Guam, Asian Wholesale, MJM International Corporation, Pacific Produce Corporation, Pacific Unlimited Inc., Pay-Less Logistics, Inc., Quality Distributors, R&E International, Mobil Guam, AJC International, D's Wholesale, Ocean Fisheries, Thrifty Ice Cream, J&B Modern Tech, Kautz & Sons, Pacific Grocers, Smart ERA Pacific, and Synergy Studios.
"Payless Markets Community Foundation is proud to recognize the 2022 Kick the Fat grant recipients! Congratulations and best wishes as you embark on your respective projects! We are deeply indebted to the many sponsors who gave so generously and grateful for the tireless efforts of our volunteers, and the many walkers/runners who contributed to the success of our virtual event. Thank you and Un Dangkulo Na si Yu'os Ma'ase!" – Marie Benito, Pay-Less Community Foundation President.
About Pay-Less Markets Community Foundation
Officially incorporated in 2006, PMCF focuses on providing opportunities for community organizations to better serve the residents of Guam. The Foundation offers grant funding to eligible local organizations whose aim is to improve the quality of life on Guam and address significant gaps in the areas of health, education, social services, and the environment.